Welcome to Starbase Pacifica!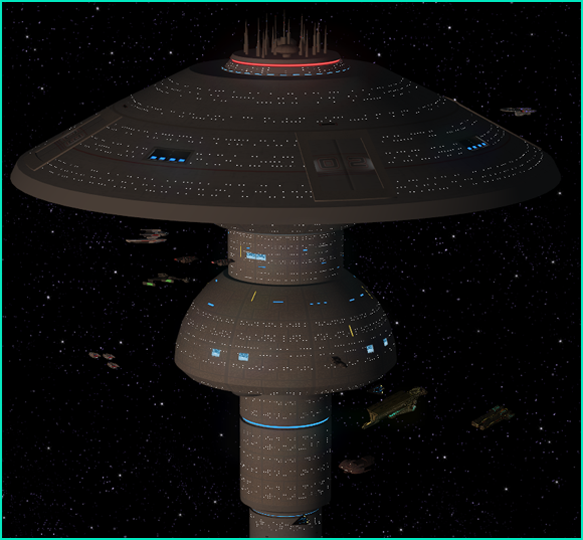 Starbase Pacifica is a sim set in the year 2346 just after the events of the Enterprise-C's destruction. Join us as we explore the birth of the Klingon/Federation alliance and get to know the minor powers of the region such as the Tholians and the Gorn.

Starbase Pacifica is a sim that has been created to explore diverse stories ranging from a focus on action to character development. Our goal is to write fun and interesting stories and to bring Star Trek fans together to enjoy the creation Gene Roddenberry so passionately shared with us.

If you believe Starbase Pacifica is the place for you I encourage you to click on that join button on the right side of this page. If you have any questions feel free to contact me at uss_monitor@bellsouth.net.

Thank you for visiting our website, have a look around and enjoy your visit!



Latest News Items
Posted on Mon Jan 2, 2012 @ 7:37pm by Captain Sopec in General News
I hope everyone enjoyed the holiday season with family and friends!

I don't know about the rest of you but I'm excited to find out about how our story turns out! I'm looking forward to the awesome writing creations that lay ahead of us for 2012!

Welcome back everyone!



Posted on Sun Jan 1, 2012 @ 12:18am by Captain Sopec in General News
Hello everyone!

I want to wish you all a happy new year! I look forward to seeing the awesome stories we'll be cranking out in 2012!

Just a reminder January 2 is the day we're going to start mandating activity again. You'll have from January 2nd to the 9th to either make a post, contribute, or send me a message letting know you still want to stick around but can't come back just yet for whatever reason.

Now with that unpleasant business out of the way.

Happy 2012 everyone!



Posted on Sun Dec 25, 2011 @ 3:38pm by Captain Sopec in General News
Merry Christmas to you all! I hope everyone is having a blessed holiday with family and friends!

We'll be pushing forward again January 2 to go give everyone time to enjoy their holiday and recover from new years day.

Comment on this news item with your favorite thing about Christmas!

My favorite thing is the relaxed atmosphere where you're not in a rush to do anything!

Merry Christmas!
Posted on Tue Nov 29, 2011 @ 2:09am by Captain Sopec in General News
I would like to extend an official welcome to our two newest members: Lieutenant David York and Master Chief Petty Officer Lo Kejal! They join us as Aerospace Flight Commanding Officer and Chief Strategic Operations Officer respectively.

Please join me in extending a warm welcome to these fine gentlemen!



Posted on Thu Nov 24, 2011 @ 1:27pm by Captain Sopec in Out of Character
Hey all!

Just wanted to wish everyone a Happy Thanksgiving! Enjoy family, friends, good food, and football! Have a great day everyone. :)



Latest Mission Posts
Mission: Copernicus Chronicles
Posted on Sun Aug 19, 2012 @ 2:37am by Captain Sopec
The Copernicus entered the Klingon Neutral Zone ignoring the threats made by the rouge houses. By entering the neutral zone the Copernicus and her crew had signed their own death warrant. Sopec understood the risks but he had orders from Starfleet. The chance to enhance the relationship with the Klingon…
Mission: Copernicus Chronicles
Posted on Wed Jun 20, 2012 @ 8:32pm by Captain Sopec
Commander Sopec, the new Captain of a seasoned crew stepped onto the bridge of the Copernicus dawning a new white shoulder strap. The crew of the Copernicus at that time had just finished a six year survey assignment of the Alteran Expanse prior to a refit at Starbase 241. New…
Mission: Olympians
Posted on Tue Feb 28, 2012 @ 5:43pm by Commander T'Leias & Ambassador Serron Shealy
Serron made his way to Sickbay, as the doors opened he strode in and looked around for T'Leias, she stood at a bio bed tending a crewman with a sprained ankle.

Serron walked up and said. "Well, plans are proceeding."

T'Leias nodded to Serron. To the patient she said. "I…
Mission: Olympians
Posted on Fri Feb 24, 2012 @ 1:34pm by Lieutenant Commander Ewih Tuher
Ewih materialized in a rather deserted area of the Pacifican city complex. He quickly opened up his duffel and stripped out of his starfleet bomber jacked and put on standard civilian wear. That being done he quietly made his way into town. " if I were a kidnapped Tholian, where…
Mission: Olympians
Posted on Sat Feb 4, 2012 @ 6:06pm by Ambassador Serron Shealy
Serron wrote letters to all the diplomats that would soon decend upon the base, they were sending in for rooms via the travel agency in droves.

Serron walked out of his office and said to Alaina. "We are going to be busy when the dignitary's arrive."

Alaina nodded. "I am…
Latest Personal Logs
Posted on Thu Dec 29, 2011 @ 11:14pm by Ensign S'Sloar Taeso
S'Sloar entered his quarters and relaxed his posture as he walked through the threshold. He reached up to the clasp on the bottom of his uniform's shoulder strap releasing it. He then grabbed his belt buckle which was shaped like a Starfleet logo and was made of brass. Pulling on…
Posted on Wed Nov 30, 2011 @ 10:42pm by Commander T'Leias
Today has been less eventful than the previous. I meditated longer, and find that the ghost memories from the dying man are not so near the top. I believe that seeing his wife and children on that message, brought up his feelings and his sense of loss at being parted…
Posted on Tue Nov 29, 2011 @ 10:43pm by Commander T'Leias
T'Leias personal log:

Today has been the most illogical of days, I wonder why I was assigned here? What Vulcan demon in the galaxy dropped me here?

My office is always cold, my quarter's iced over and the illogic of some never cease to amaze me.

My Orders request was…
Posted on Tue Nov 29, 2011 @ 2:30am by Captain Sopec
Sopec sat in his lounge chair with a cup of Vulcan tea in his hands. The lights in his suite were dim as they always were during this time of the evening. Sopec's evening ritual had remained a necessary part of his functioning since his time at the Academy. Sopec…
Posted on Wed Nov 23, 2011 @ 11:05am by Ambassador Serron Shealy
Serron made his way through the expensive ship. He sat down at the long table and waited.

Soon the holo imagers lite up and the information began to stream....


Serron watched every angle of the reports and then filed his own.

He also sent reports....


OFF: