Welcome to Starbase Pacifica!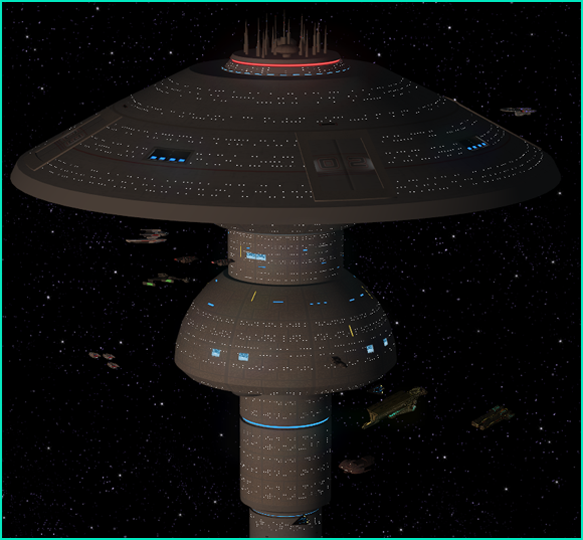 Starbase Pacifica is a sim set in the year 2346 just after the events of the Enterprise-C's destruction. Join us as we explore the birth of the Klingon/Federation alliance and get to know the minor powers of the region such as the Tholians and the Gorn.

Starbase Pacifica is a sim that has been created to explore diverse stories ranging from a focus on action to character development. Our goal is to write fun and interesting stories and to bring Star Trek fans together to enjoy the creation Gene Roddenberry so passionately shared with us.

If you believe Starbase Pacifica is the place for you I encourage you to click on that join button on the right side of this page. If you have any questions feel free to contact me at matt_williams@lavabit.com.

Thank you for visiting our website, have a look around and enjoy your visit!



Latest News Items
Posted on Sun Aug 18, 2013 @ 9:15pm by Captain Sopec in General News
Hello Everyone,

Today I have the honor of welcoming and introducing a new member of the team here at Pacifica.

Senior Chief Petty Officer Melanie "Mel" Howarth our new Aerospace Corp Flight Commanding Officer!

I look forward to seeing her influence on the story and getting to know the character better and better!

Welcome aboard!



Posted on Sun Aug 11, 2013 @ 10:49pm by Captain Sopec in Website Update
Hello All,

After some searching, troubleshooting, and a series of other issues with the email service we appear to have email notifications back online!

I'm sorry for any inconveniences this caused.

Thanks,

- Matt

Aka.



Posted on Thu Jul 11, 2013 @ 10:22pm by Captain Sopec in Sim Announcement
I wanted to extend a special welcome to our current crew. I look forward to writing with you gentleman and creating something truly unique and exceptional!

Welcome to:

Commodore Alston Harper
Captain Sopec
Lieutenant Commander Stan Romero
Petty Officer First Class Sam "Doc" Renfroe

We're shaping up nicely! :)



Posted on Sat Jun 29, 2013 @ 2:27am by Commodore Alston Harper in Sim Announcement
We're back open for business! After a long renovation process, Pacifica is ready to get back to work.

All senior staff positions are open and feel free to sign up! The more, the merrier.

If you have any questions, don't hesitate to contact Matt (Sopec), or myself (Harper).


Happy Simming!



Ian




Posted on Mon Jan 2, 2012 @ 7:37pm by Captain Sopec in General News
I hope everyone enjoyed the holiday season with family and friends!

I don't know about the rest of you but I'm excited to find out about how our story turns out! I'm looking forward to the awesome writing creations that lay ahead of us for 2012!

Welcome back everyone!



Latest Mission Posts
Mission: Olympians
Posted on Fri Jul 19, 2013 @ 3:14pm by Lieutenant Commander Stan Romero & Commodore Alston Harper & Captain Sopec
Sopec and Harper stepped off the lift and took in the view of Command and Control. It was massive compared to the bridge of the small Oberth Class. Sopec looked around identifying the stations he recognized or could deduce their function. Sopec took notice of a human officer who seemed…
Mission: Olympians
Posted on Thu Jul 18, 2013 @ 1:28am by Captain Sopec & Petty Officer First Class Kori Welmonan
Sopec crossed over the boarding ramp and onto the Copernicus. Debris littered the sides of the hallway with a clear path down the center that had been left behind by the repair teams. At this point they were pulling out all the damaged material and components that would need or…
Mission: Olympians
Posted on Sun Jul 14, 2013 @ 10:19pm by Petty Officer First Class Samuel "Doc" Renfroe
ON:

Doc had just spent the past 4 hours triaging and treat the injured the after the attack on the Copernicus, after several not so minor surgeries and filling out repots he was not only starving but nearly exhausted. Doc covered in in blood grabbed himself burger to eat and…
Mission: Olympians
Posted on Thu Jul 11, 2013 @ 5:20pm by Petty Officer Second Class Matt Williams
Matt stood observing the crowd of what appeared to be mostly injured Starfleet Officers pouring off the Copernicus. He had been assigned to patrolling Blue Sector upon his re-enlistment. It was a big change from patrolling Brown Sector. Matt was finding the slower pace a nice change and because Blue…
Mission: Olympians
Posted on Sun Jul 7, 2013 @ 1:01pm by Captain Sopec & Commodore Alston Harper & Petty Officer First Class Samuel "Doc" Renfroe
ON:

The Copernicus rested in Docking Bay 3 at Pylon 2 with the evidence of battle spread across her small hull. The Oberth class had been attacked en route to Pacifica by a wing of Orion fighter craft. The motivation behind the attack had not yet been determined but the…
Latest Personal Logs
Posted on Sun Jul 7, 2013 @ 10:25pm by Petty Officer First Class Samuel "Doc" Renfroe
Petty officer 1st class Renfro's personal log star date: 24497.5

"It have been a heck of day I arrived and got my physicals and eval done hours before the commissioned medical staff shipped off and a transport carry a the first wave of replace personnel arrived after being attack by…
Posted on Tue Nov 29, 2011 @ 2:30am by Captain Sopec
Sopec sat in his lounge chair with a cup of Vulcan tea in his hands. The lights in his suite were dim as they always were during this time of the evening. Sopec's evening ritual had remained a necessary part of his functioning since his time at the Academy. Sopec…
Posted on Sun Nov 20, 2011 @ 2:08am by Captain Sopec
Sopec sat in a chair in his rather lavish quarters. The lights were low and the atmosphere was one of peace and tranquility. The one place on the station he would be able to exist in silence. Sopec tapped his combadge and began his log.

"Captain Sopec's personal log. I…